Benchmark Wines By
Clos Erasmus
There are no bottles in stock for this specific wine.
---
See other wines from Clos Erasmus
---
Would you like to receive an automatic notification when this wine is available again?

Log in to favorite this wine
---
Tasting Notes
WA98
A wine of great intensity, this 415-case blend of 78% Grenache, 17% Cabernet Sauvignon, and 5% Syrah aged in 100% new French oak casks, reveals an inky/purple color as well as a tight but promising bouquet of acacia flowers, raspberries, blackberries, and hints of blueberries, smoke, and the essence of minerality. With extraordinary richness, good underlying acidity, firm tannin, and a multilayered mouthfeel, this spectacularly concentrated 2001 is only hinting at its ultimate potential. Patience will be rewarded as this is a tour de force in winemaking, marrying the elegance and complexity of Priorat with the extraordinary concentration and intensity that comes from low yields and ripe fruit.
V95
Bright ruby-red. Currant, crushed raspberry and bitter chocolate on the nose; showed some dried berry notes with aeration. Lush, smooth and deep, with a creamy middle palate showing almost confectionery sweetness. But sound acids give this extremely suave wine terrific shape and thrust. Finishes with noble tannins and terrific persistence. Very sophisticated winemaking and elevage here. As seamless and classy a vintage of Clos Erasmus as I've tasted to date.
---
Other wines you may like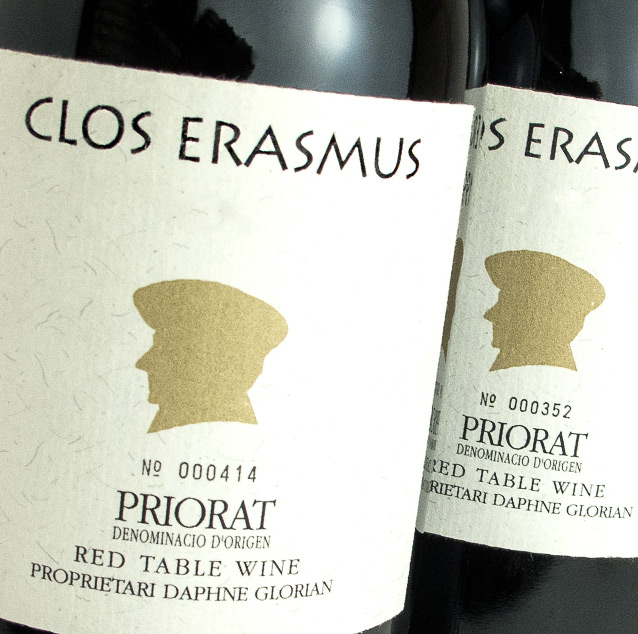 The Winery
Clos Erasmus
Rare Wines, Serious Collectors
As the #1 back-vintage retailer in the US, Benchmark Wine Group prides itself on being a trusted source for the greatest wines in the world. Their unparalleled market knowledge and exceptional service have come together to provide the most accessible cellar of rare and sought-after wines with a guarantee.