Benchmark Wines By
Grand Puy Lacoste
There are no bottles in stock for this specific wine.
---
See other wines from Grand Puy Lacoste
---
Would you like to receive an automatic notification when this wine is available again?

Log in to favorite this wine
---
Tasting Notes
WA95
The 2000 Château Grand Puy Lacoste is an exceptional wine from Xavier Borie. It has a brilliant nose of blackberry, crushed stone, graphite and cedar. Putting it to one side for ten to 15 minutes reveals subtle mint-like aromas that whisk you straight to Pauillac. The palate is smooth and silky, cloaking the tannic frame of this GPL so that you barely notice it. But that will stand it in good stead for the long-term, the cornerstone of all great wines from this estate. Then there is that hint of spice on the aftertaste—the show ain`t over yet. Served alongside a magnum of Pichon Baron 2000, I would say that at the moment, it does not quite possess the same level of precision. However, it remains a magnificent Pauillac to cherish long-term. Tasted January 2016.
---
Other wines you may like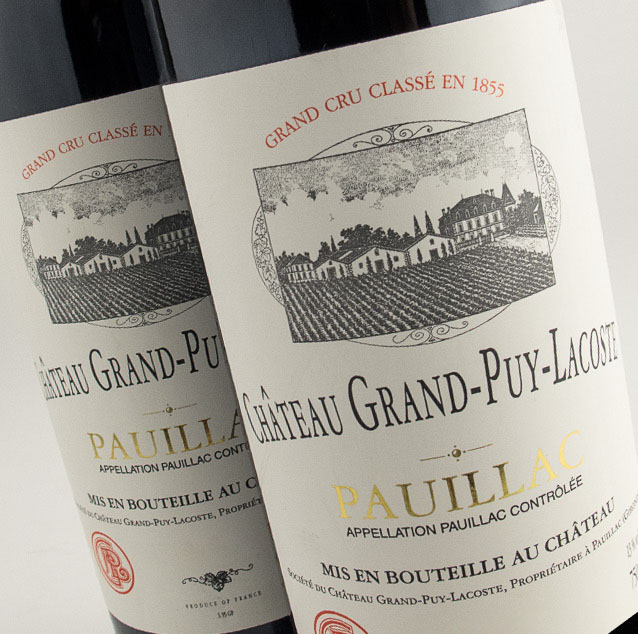 The Winery
Château Grand-Puy-Lacoste
"Wines are the expression of their terroir, their climate and their grapes, but they also carry the mark of those who made it."
- Château Grand-Puy-Lacoste Website
Located on a small hill above the village of Bages in Bordeaux, lies the Château Grand-Puy-Lacoste. The estate was classified as a fifth-growth in the 1855 Classification of the Medoc and its Cabernet Sauvignon-based grand vin is known for its velvety opulence. The winery makes a second label called Lacoste-Borie that is made from lots of its declassified fruit which is mostly Merlot. The soils are a classic mix of gravel of differing depths, mixed with sand and some clay, and allow excellent, much-needed drainage for the vines. After centuries of evolving ownership following the 1855 Classification of the Medoc, the estate landed in the hands of François-Xavier Borie who has guided the estates fortunes elegantly and successfully since 1978.
www.chateau-grand-puy-lacoste.com
Rare Wines, Serious Collectors
As the #1 back-vintage retailer in the US, Benchmark Wine Group prides itself on being a trusted source for the greatest wines in the world. Their unparalleled market knowledge and exceptional service have come together to provide the most accessible cellar of rare and sought-after wines with a guarantee.