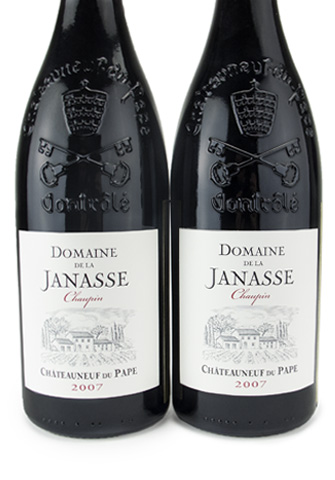 Domaine Janasse Chateauneuf
du Pape Chaupin 2006

It is not very often we see a ready-to-drink, 96 point Rhone for under $75, but that is exactly what we have to offer today. From 100 year old vines, the 2006 Les Chaupin Cuvee from Domaine La Janasse has just entered its drinking window and will stay there for the next 5 years.
Pre-Arrival - Arrives Summer 2017. Click below to order.
96 Points, Wine Advocate
"A step up on the richness scale over the classic cuvee, the 2006 Chateauneuf du Pape Chaupin is as sexy a Grenache as you'll find in the vintage. Blackberry liqueur, black cherries, olives, crushed flowers and licorice all emerge from this beauty, and it hits the palate with a full-bodied mouthfeel, sweet, resolved tannin and a great finish. This blossoms with time in the glass and will continue drinking beautifully for 4-6 years. "
Domaine Janasse Chateauneuf du Pape Chaupin 2006
Bottle Price: $75
Buy 6, and get 5% off! (Bottle Price: $71.25)
Buy 12, and get 10% off! (Bottle Price: $67.50)

Limited Quantities Available