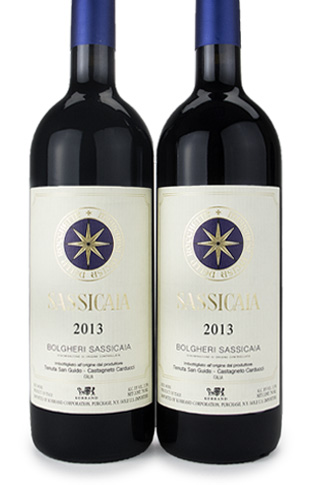 Sassicaia 2013

By popular demand, we've managed to secure another small parcel of 2013 Sassicaia that we can offer to you at the best price in the nation when you buy 6 bottles or more! Arriving this summer, these are likely to be gone before they land in our warehouse.
Pre-Arrival - Arrives July/August 2017. Click below to order.
98 Points, James Suckling
"Fabulous structure for a Sassicaia with powerful, polished, chewy tannins and ripe, subtle fruit. Aromas of blueberries, blackcurrants, rosemary and lavender. Full body, bright acidity and a savory finish. Juicy and lively... "
97 Points, Wine Advocate
"...a wine of excellent execution, beautiful balance and seamless intensity. The bouquet opens slowly to reveal delicate aromas of dark fruit and integrated spice that build in steady strength. That forward momentum, which is so specific to Sassicaia, is what ultimately brings us confidence in the wine's remarkable ageing potential. The mouthfeel delivers freshness and power, but in measured doses, with long and silky persistence... "
Sassicaia 2013
Bottle Price: $165
Buy 6 or more, and get 5% off! (Bottle Price: $156.75)

Limited Quantities Available