Customer Testimonials
Here's what people are saying about Benchmark Wine Group...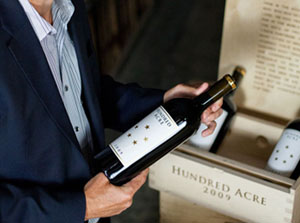 "Thanks for the letter I received from you along with the very prompt payment for our second sale of wine to Benchmark. I want to express to you how happy we were with your company, beginning with our first phone conversation right up until our payment. Everything was handled in a completely professional, timely and competent manner.
Your team went out of their way to make us feel comfortable and confident with our decision to sell to Benchmark. Our first transaction was large — approximately $250,000; the second was a much smaller amount — $13,000. Both times we were thrilled with the service and cooperation we received.
We worked with Matt Coelho and then with Jeremiah and Matt from the acquisition team. As I said, everything was handled perfectly. Payment was absolutely as promised. We would have no problem at all recommending Benchmark to anyone looking to sell some of their wine collection.
We thank you for the service we received and won't hesitate to call on you again if we decide to sell more of our wine."
Judi from Maine // July 14, 2015
---
"My personal recommendation would be to use Benchmark Wine Company in California; they are both an online retailer and have an online auction house Brentwood Wine Company. I have used both to sell some of my wines in the past, and know the CEO, David Parker, as a friend and as a professional. I have never had to question any of their actions, and they are 100% reliable. There is no seller's commission."
George P. Sape, Maître of the Commanderie de Bordeaux, NYC // March 24, 2014
---
"It's professionally rewarding and refreshing to see that a company can be successful financially AND be a great place to work for its employees."
Chris from Bank of Marin // January 28, 2014
---
"I recently bought from benchmark wine, and loved the selection. It's so great to find a gem, and the quality is so much better vs in the city! Since then, I've been recommending benchmark to all of my friends."
Justin in San Francisco, // November 21, 2013
---
"Thank you very much for everything. You made the transaction quite easy and it was a pleasure to work with you and Benchmark."
Jeff in St. Louis, // October 30, 2013
---
"I just wanted to send a quick thanks for the beautiful description you gave of the 2008 IX Estate Red. It's one of those wines that took all my heart and soul to make, and it's a great feeling knowing its appreciated."
Allison Tauziet, Winemaker, Colgin Cellars // October 24, 2013
---
"Always great customer service!"
Jason in Santa Rosa, California // September 5, 2013
---
"I just got back from a 60th birthday party for a friend of mine, and over the two nights we were on Kauai, we managed to put away 12 bottles of wines ranging from Krug to Comptes de Champagne to some Lewis, Aubert, Dunn, and Hundred Acre. Three days before that, I poured a 04 Comptes de Champagne, a 04 Peter Michael Le Carriere, a 95 Pahlmeyer, and an 02 Phelps Insignia.
The big deal is that all the wines I poured were from Benchmark. The other wines came from elsewhere. I have reached a point, however, that I can actually tell that a bottle was cellared well and which ones were not. My friends who have reached that same point had noted to me during the party that my wines were the best. All I could do was smile, because I knew the reason my wines were better were because I knew where they came from. I knew my wines were all cellared very, very well and the fact that most people could tell the difference was proof of that.
Therefore, I must thank you all at Benchmark for the careful choices of wines and the way you cellar them after you get them. Obviously, in this business, if you don't take care of the wines, they come back to bite you. "
Vernon in Aiea, Hawaii // September 4, 2013
---
"I also want to let you know I've always been impressed with how far your staff has gone to accommodate my crazy last minute requests. I normally call you after the cut off and ask if someone can ship same day. Somehow your team always makes it work. Hence I keep buying from you. The craziest request was asking if someone could drop off a few bottles at the Napa Valley airport on a Saturday afternoon when you were closing so my pilots could pick them up. Someone did it and that evening we drank the wine. I offered to pay a drop off fee but she laughed and said no. They'd take care of it. And they did. Bravo!"
Brian in San Diego, California // September 3, 2013
---
"Thank you for taking so much trouble to help me. I just ordered the Trotanoy and three other bottles on your web site. It was your magnificent help that sold me. You should get a raise. Take the rest of the day off."
Herb in Eugene, OR // August 27, 2013
---
"I am just writing to tell you WOW. Fabulous choices on the last order. Our business guests were stunned, over the top excited and couldn't believe we could obtain those wines. So, thank you, thank you, thank you. Amazing job. You are the best."
Linda in Fairfield, California // July 16, 2013
---
"FYI, yours are one of only two wine company email lists that I read every email, every time. Good job on both the wine acquisitions and the marketing layout."
Rick in Newport Beach, California // July 2, 2013
---
"It's largely thanks to awesome service like yours that I am happy to order from Benchmark again and again."
Jack in San Francisco, California // June 21, 2013
---
"I am impressed with Benchmark's service and reliability. I enjoy doing business with companies that have accurate information on their website and do what they say they will do. While it sounds simple, many of your competitors can't manage it. Well done. You have a "raving fan" in Hickory NC."
Phil in Hickory, North Carolina // April 16, 2013
---
"My association with your company has not only added nicely to my wine cellar, but has added much joy in my household."
Steve in Atlanta, GA // April 15, 2013
---
"Sincere thanks. You deliver a superior level of service that is much appreciated. It clearly sets you apart from the vast majority of on line vendors I deal with in all areas, not just wine."
Ben in Branford, CT // April 4, 2013
---
"Very easy website to use."
Edward in New York, New York // February 28, 2013
---
"You guys are obviously very good at what you do."
Cameron Vawter (Winemaker) at Dana Estates in St. Helena, California // February 6, 2013
---
"Received the bottle. Looks great! Wonderful first impression. I'll be back."
Michael in Philadelphia, Pennslyvania // January 18, 2013
---
"You guys give killer service."
Michael Anderson, The Village Pub, San Francisco // January, 17, 2013
---
"Thank you for the smooth service!"
Carsten in Munich, Germany // January 7, 2013
---
"It's very nice to find a company with such good and friendly customer relations/service."
Michael in San Diego, California // December 12, 2012
---
"I just had the Gruaud Larose 1928, and the wine was flawless! Mighty nose of truffles, mushroom, liquorice, nutmeg, dried figs and plums (impressive for a wine this old!), with noticeable but very well integrated tannin on the palate (equally impressive!), albeit not that persistent. Through and through, you were absolutely right about the odds of this wine still being drinkable, and it met all my highest expectations!"
A satisfied BWG customer // March 9, 2012