Benchmark Wines By
Ponsot
Show All
71 Bottles Available 2013

Ponsot Clos de la Roche Vieilles Vignes 2013


Ponsot Clos Vougeot (Vieilles Vignes) 2013


Ponsot Clos Vougeot (Vieilles Vignes) 2013


OWC

Original wood case

$855.00

$950.00

You save $95.00

Ponsot Clos Vougeot (Vieilles Vignes) 2013 1.5L


$855.00

$950.00

You save $95.00

Ponsot Chambertin Clos de Beze 2013 1.5L


$719.10

$799.00

You save $79.90

Ponsot Chapelle Chambertin 2013 1.5L


Ponsot Clos de la Roche Vieilles Vignes 2013 1.5L


Ponsot Griottes Chambertin 2013


16 Bottles Available 2012

Ponsot Clos de la Roche Vieilles Vignes 2012 1.5L


Ponsot Griottes Chambertin 2012


Ponsot Morey St. Denis 1er Cru Cuvee des Alouettes 2012


Ponsot Chapelle Chambertin 2012


32 Bottles Available 2011

Ponsot Corton Bressandes 2011


Ponsot Clos Vougeot (Vieilles Vignes) 2011


Ponsot Clos de la Roche Vieilles Vignes 2011


Ponsot Griottes Chambertin 2011


5 Bottles Available 2009

Ponsot Clos Vougeot (Vieilles Vignes) 2009 1.5L


Ponsot Griottes Chambertin 2009 1.5L


1 Bottle Available 2007

Ponsot Clos de la Roche Vieilles Vignes 2007


6 Bottles Available 2004

Ponsot Clos de la Roche 2004 1.5L


1 Bottle Available 2002

Ponsot Clos Vougeot (Vieilles Vignes) 2002


6 Bottles Available 1991

Ponsot Clos de la Roche Vieilles Vignes 1991


3 Bottles Available 1990

Ponsot Griottes Chambertin 1990


1 Bottle Available 1985

Ponsot Clos de la Roche Vieilles Vignes 1985 1.5L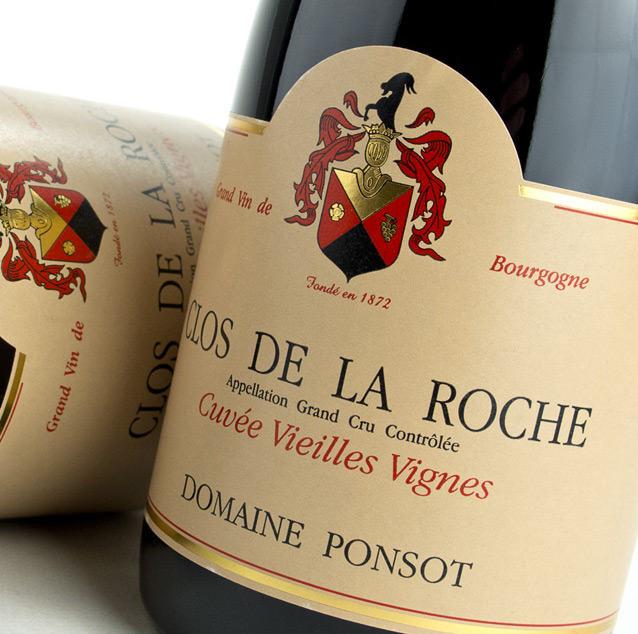 The Winery
Domaine Ponsot
Domaine Ponsot is one of the most revered and historic producers in all of Burgundy. In the hands of the Ponsot family since 1872, they were one of the first Domaines to understand and use the importance of clones and clonal selections.
Today, the domaine is under the control of Laurent Ponsot who grows his grapes using a non-interventionist philosophy, which expresses their terroir driven wines to the fullest extent. Laurent's winemaking soul and masterwork has garnered the mantra of a maverick from wine critics all over the world due to his successful methods.
Rare Wines, Serious Collectors
As the #1 back-vintage retailer in the US, Benchmark Wine Group prides itself on being a trusted source for the greatest wines in the world. Their unparalleled market knowledge and exceptional service have come together to provide the most accessible cellar of rare and sought-after wines with a guarantee.