Benchmark Wines By
Jayer, Henri
Show All
2 Bottles Available 1978

$8,222.00

$9,343.00

You save $1,121.00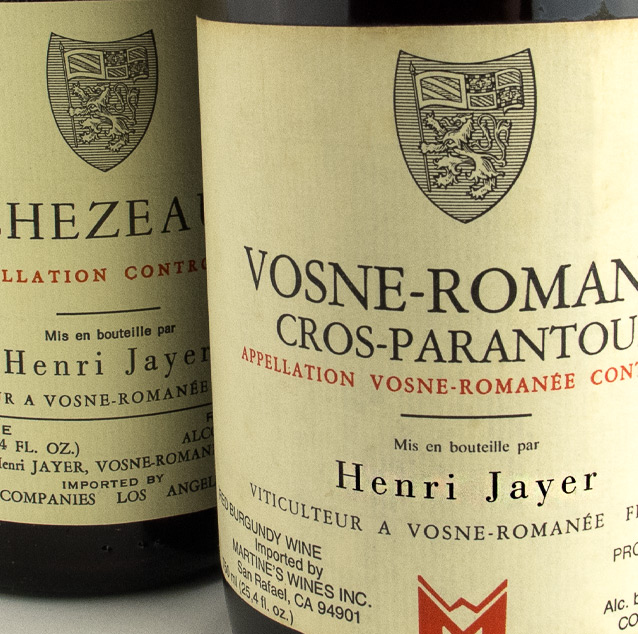 The Winery
Henri Jayer
"Even God did not anticipate such Pinot Noir when he invented the variety."
–Neal Martin, The Wine Advocate
Known for making some of the most critically acclaimed and expensive red Burgundy in the world, Henry Jayer is a producer to keep an eye on. The label was founded in the 1950s under Henri Jayer after he inherited seven acres in the Cote d'Or, including land in the grand cru of Echezeaux. Jayer unfortunately passed away in 2006 and left the domaine to Emmanuel Rouget whose wines still command high prices due to their limited production. Because the Jayer wines are not in production anymore the wines have become highly collectible and expensively priced, so much that in 2014 a case of 1985 Vosne-Romanee Cros Parantoux from Jayer's private collection sold for $265,200 at an auction in Hong Kong. The historical wines of Henri Jayer are known to get better through the years and are quick to move through the hands of high-end collectors.
Rare Wines, Serious Collectors
As the #1 back-vintage retailer in the US, Benchmark Wine Group prides itself on being a trusted source for the greatest wines in the world. Their unparalleled market knowledge and exceptional service have come together to provide the most accessible cellar of rare and sought-after wines with a guarantee.