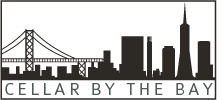 Benchmark Wine Group is pleased to start December off with an incredible new collection of back-vintage favorites. This collection was meticulously amassed over a decade with some of the greatest and most valuable producers in the world.
The Cellar by the Bay comes to us from a respected professional and artist in San Francisco. This collector spent the last decade shopping at local merchants and visiting wineries with the goal of filling his home cellar. After recently moving to a new home which lacked cellar space, he chose to partner with Benchmark to significantly downsize his collection.
As our team inspected each bottle, it was clear that this collector did his part of supporting the local wine industry. Import labels on Old World wines read like a catalog of Bay Area retailers and importers. California wines were also sourced from local retail, when not purchased directly from some of the most coveted "cult" winery mailing lists.
Don't miss this opportunity to acquire perfectly aged collectibles, all with Benchmark's Provenance Guarantee.
---
No wines were found for ''.