Benchmark Wines By
Billecart Salmon
---
Tasting Notes
JS98
This has a super-composed nose with gently spiced pastry and bright strawberry and cherry fruits, as well as some spiced brulée custard and praline. There's a lot of deep-set complexity here. The palate has a bright, crunchy, and assertive burst of peach and lemon flavor on entry, while the pinot takes the mid-palate with fleshy white cherries and smooth phenolics that hold through to the finish with gently nutty mushroom and cherry-pip flavors to close. Great balance and power. Drink now through to 2025+. This vintage is a 60/40 split between pinot noir and chardonnay.
V97
A mesmerizing, thrilling Champagne, the 2002 Cuvée Nicolas François Billecart is a great example of the vintage at its best. Silky and racy on the palate, yet a bit more restrained than many wines of the year, the Nicolas François Billecart remains vivid and remarkably nuanced. Brioche. apricot jam, wild flowers and honey are some of the many notes that blossom as the Cuvée Nicolas François Billecart shows off its voluptuous personality. The 2002 is 60% Pinot Noir and 40% Chardonnay.
---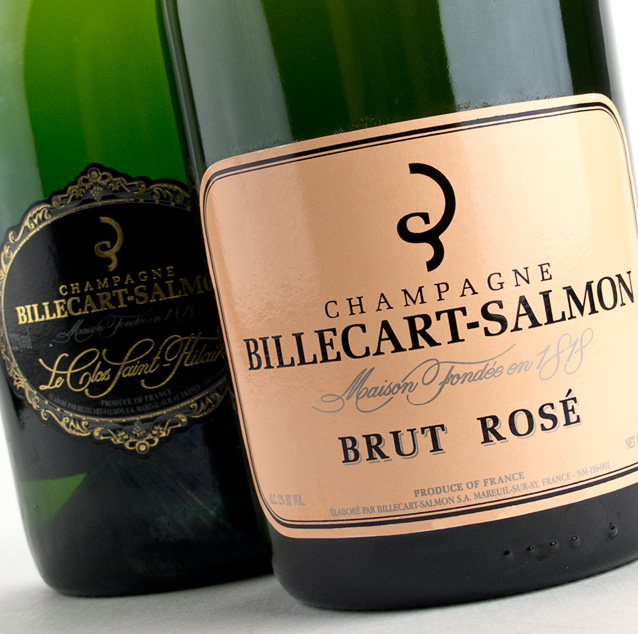 The Winery
Billecart-Salmon
Founded in 1818 by Nicolas François Billecart and his wife Elisabeth Salmon, this champagne house is one of the oldest operated family-ran entities in the region. Now in their seventh generation, quality has yet to take a dive and their growth has reached 30 hectares of vineyards, 4 of which are Grand Cru in the villages of Choully, Avize and Le Mesnil. They pride themselves on elegant and feminine Champagnes with a strong acidic backbone and subtle alcohol which are primarily due to the philosophy of early harvesting.
Rare Wines, Serious Collectors
As the #1 back-vintage retailer in the US, Benchmark Wine Group prides itself on being a trusted source for the greatest wines in the world. Their unparalleled market knowledge and exceptional service have come together to provide the most accessible cellar of rare and sought-after wines with a guarantee.